Welcome to the Home Page of Potash Nursery, Suffolk's Leading Fuchsia Specialist
*** Follow us on Twitter!! ***

PLEASE NOTE THAT DUE TO HIGH DEMAND WE ARE NOW TAKING ORDERS
FOR MID-APRIL 2022 AND ONWARDS

MIX & MATCH YOUR FUCHSIAS & PELARGONIUMS!

Planning is key to a fabulous garden - ordering your plants now for next year's hanging baskets, patio pots or for planting out into an easy-care border just makes sense.

Get ahead of the rush, place your order and sit back and relax, knowing that next year's riot of summer colour is all planned.

SHOW NEWS
Please click on Shows on the left of this page to see where we are hoping to be this year!
ALL OUR PLANTS ARE GROWN 100% PEAT FREE!!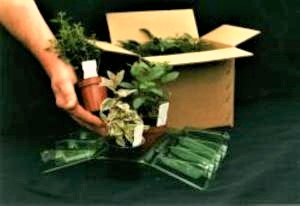 Mail Order - PLEASE NOTE: WE ONLY DISPATCH PLANTS TO UK ADDRESSES (EXCLUDING NORTHERN IRELAND)
This is how our fuchsias are packaged before being sent to you via first-class post.

Young plants in 6cm pots are dispatched from early March to end of May. PLEASE NOTE THAT DUE TO HIGH DEMAND WE ARE NOW TAKING ORDERS FOR DISPATCH FROM MID-APRIL ONWARDS.

Orders can be placed at any time in advance; when you can either specify when you would like the plants delivered (please allow up to 30 days from date of order), or if you do not choose a date they will be delivered in April. Orders received during the mail order season will automatically be dispatched as soon as possible unless otherwise specified. The majority of orders tend to be sent within 10-14 days, but we do ask that you allow up to 30 days from receipt of order.

Our full catalogue can be viewed here on the website together with online ordering facilities for the fuchsias.

When making up an order of your own choosing please order in multiples of six plants (made up of any combination of varieties), as this is how the packaging comes. PRICES :- EACH BOX OF 6 plants is £24.90 inclusive of post and packing.
Why Fuchsias?
The answer is of course quite straightforward - with their many different colours, flower forms and growth habits there is simply a fuchsia for everybody out there. An easy to care for and rewarding plant which offers vibrant long lasting displays from the late spring through to the autumn

First discovered in the late 17th Century, the genus fuchsia was named after the botanist Leonard Fuchs. As more and more fuchsia species were discovered plant hybridisers soon got to work, the result being the fantastic range and variety available today.

Over the years we have honed our range, carefully selecting varieties which provide good consistent results in order to provide the very best to you, our customers. Once again we thank you all for your kind comments and hope that you will find something to suit your particular garden. We aim to have a fuchsia for everyone - be they a complete novice or a hardened fuchsia fanatic.

So what are you waiting for - explore the following pages and place your order without delay to ensure your own fabulous fuchsia show and remember all the plants which we sell are propagated and raised on our family run nursery in Suffolk, so you will be supporting British horticulture.

Lucky Dip Boxes Only £18.90 - Ideal for You or as a Gift
Too many to choose from? Why not treat yourself or someone special to one of our great lucky dip boxes and save £6! Each box contains six different labelled varieties.

Early Bird Discount
Save £2 on every box of six plants when you order before 31st December each year for next Spring delivery!
(excluding Lucky Dip boxes)
Paper Catalogue
Our full catalogue is available here online, together with details of how to order. However, if you would still like to receive a copy of our paper catalogue please send in a 1st class stamp together with your name and address.

We regret that e-mail only requests will not be responded to due to the immense number and the rising costs are proving very prohibitive.